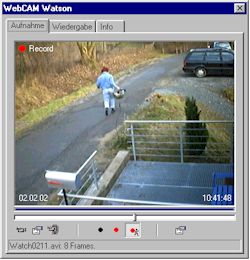 See how it works...
WebCAM Watson is a perfect video monitoring system for your PC.
Day-long observations diminish to minute length.
WebCAM Watson takes single pictures in adjustable temporal distances of the WebCAM. These pictures are converted to a AVI video with 25 frames per second.
Thus a quick-motion picture is created, with which long procedures can be controlled very fast.
Ideally for
shop monitoring

monitoring of entrances

weather

monitoring job in absence and much more besides...
Any capture device, a WebCAM or a normal camera, attached to a frame grabber card, can be used.